Recruitment Of English & Gujarati Stenographers (grade – l & ll) And Assistants (junior Clerks) In The Subordinate Courts Of The State Of Gujarat
The High Court of Gujarat invites 'On-line Applications',from the eligible candidates, for filling up vacancies (existing and future), by Competitive Examination, in the following different posts/cadresof the Administrative Staff on the establishment ofthe Subordinate Courts of
the State of Gujarat, as indicated against each of them:
Vacancies detaila
Category-wise vacancies :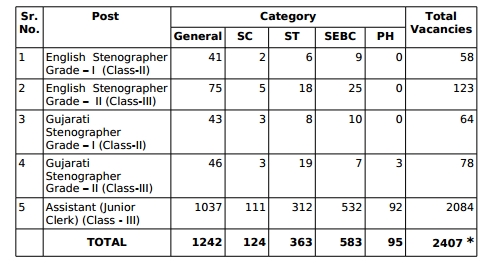 The High Court reserves its right to adjust/alterthe number of

vacancies notified.

If suitable candidates of any Reserved Class/Categorywill not

be available, then the vacancieswill be filled up by other suitable

candidates according to the merits.

The break-upof the total numbers of vacancies vis-a-vis the

various reserved classes/categories, for the different posts/cadres in

the various Districts, is annexed hereto at Annexure-"A".
Fees and Mode of Payment :
a) The candidates belonging to Scheduled Castes, Scheduled Tribes, Socially & Educationally Backward Classes, Disabled Persons & Ex-Servicemenare required to pay fees of Rs.250/-plus Bank Charges and all other candidates are required to pay
fees of Rs.500/- plus Bank Charges. The candidates are requested to make payment of requisite fees in Current Bank Account No.30725811785 with the State Bank of India, High Court Complex Branch, Ahmedabad, held in the name of Registrar General, High Court of Gujarat, Sola, Ahmedabad, through any of the Core Banking Service branches of the State Bank of India, from 21/02/2012 to 20/03/2012 during bank working days and hours, using the Cash Voucher in the special format appended to this Advertisement which can be downloaded from the
website www.gujarathighcourt.nic.in or http://hcrec.guj.nic.in:8080 and collect from the Bank, the Cash Voucher, marked as 'Office Copy' and 'Candidate's Copy' with the unique Deposit Journal Number assigned by the Bank and preserve the same. Candidates must ensure that on deposit of fee, the Bank issues them a receipt which invariably mentions

(i)Deposit Journal Number (ii)Branch name (iii)Branch Code Number,
(iv)Date of deposit and (iv) Bank charges, etc.,
b) Feesonce paid shall not be refundedin any circumstances.
c) Payment made by any other modeviz. Cash/Cheque/ Money Order/Bank Demand Draft/Bank Pay Order/Postal Order etc. will not be accepted.
How to apply
All eligible candidates should apply 'On-line', through the link provided in High Court website www.gujarathighcourt.nic.in or http://hcrec.guj.nic.in:8080in the prescribed format from
21/02/2012 to 20/03/2012.
Note : Read the official notification carefully for complete information about the recruitment before applying.
Naukri Baba - A hub for All Sarkari Naukri / Govt Jobs.