Informatics Assistant (IA) Recruitment in Rajasthan
Update 15-09-2018 : Date of Typing Test for Informatics Assistant 2018
5 October 2018 - See Details
Update 09-06-2018 : Informatics assistant (IA) 2018 Solved Paper and Answer Key
1. Answer key of Suchna Sahayak (IA) Exam 2018
New vacancy has opened of Informatics assistant - Candidates who are looking for government job as Informatics assistant in Rajasthan have another chance to got IA post.
Name of the Post:
Informatics Assistant (Suchna Sahayak) : 1302
Please see below image for category wise posts


Important Dates:
Commencement of on-line registration of application : 08-Mar-2018

Closure of registration of application: 27-Apr-2018

Last date for printing your application : 31-Dec-2018

Closure for online fee payment : 27-Apr-2018

Closure for fee payment at kiosk: 27-Apr-2018

Written Examination Date : 12 May 2018 (saturday 11 AM to 2 PM)
Examination Fees
1. For Genneral Category, Creamelayer OBC - 450
2. For Creamelayer OBC Category - 350
3. For SC/ST/Physically challanged Category - 250
Eligibility Criteriya: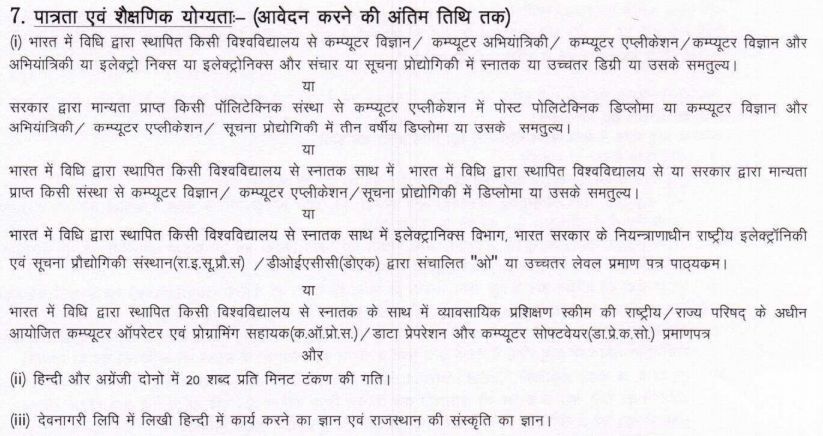 Age Criteriya :
1 For General Category Candiates age (as on 1 january, 2019) Mininum Age 21 years and Maimum Age 38 (35+3) years.
Apply for Informatic Assistant 2018 Online
Exam Pattern
(i) Written Examination will be held on 12 May 2018 (saturday 11 AM to 2 PM) on various cities of rajasthan and near by states.
(ii) Typing Speed test 15 minute Typing in Hindi and 15 minute English both. IA typing test will conducted for 3 times of toal advertise post after Written exam.
Part - I. Written Exam : A written exam will conducted in May 2018 - Online Mode.
Part—II - Typing Speed Test
Speed tests in Hindi and English languages on Computer Machine shall be taken of only those candidates who have qualified the Part-I of the examination. The number of candidates to be admitted to the Part-II of the examination (Qualifying Typing Speed Test) shall be about three times of the advertised vacancies (category wise).
Typing Test will be of Qualifying Nature Both in English and Hindi.
Font To be used in IA Typing Test
1. English - Courier New
2. Hindi - Devlys 010
Keyboard to used in IA Typing Test
1. English - Standard QWERTY Keyboard layout
2. Hindi - Remington (typewriter) Keyboard layout
Suchna Sahayak 2018 Full Advertisment in Hindi Download Here