Hindi Keyboard
Hindi Keyboard can be of three types:
Remington Hindi Keyboard

Inscript Hindi Keyboard

Phonetic Hindi Keyboard
1. Remington Hindi Keyboard ( Hindi type writer keyboard Layout)
A standard Hindi typing keyboard (Remington keyboard) layout with the hindi font Devlys and Kruti Dev. Remington Hindi keyboard is used in government typing examination such as Informatic Assistant in Rajasthan, Data Entry Operaotr NRHM in MP state. Use Hindi typing tutor to learn typing with Hindi keyboard it will help you lot to get success in your typing test examination. It is the most popular and fast way to learn hindi typing with remington keyboard layout. Its is keyboard layout use in type writter machine too. Some of the character you will not find on this Hindi keyboard layout, because some special character can be typed with combination of Alt + 0XXX Some code value, to learn these code click on special character code for Hindi typing.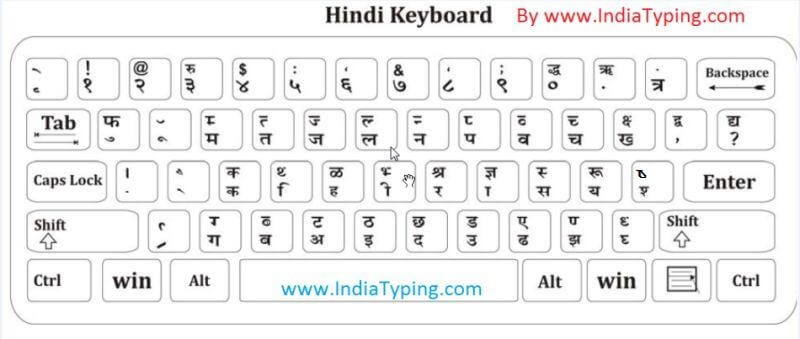 2. Inscript (INdian script) Hindi Keyboard
Inscript keyboard is the new keyboard designed for Indian Language Typing this format supports up to 12 indian language typing. It's not a popular keyboard for hindi typing and also more difficult to learn hindi typing with Inscript hindi keyboard. Inscript keyboard also used in SSC typing test exam, ssc data entry test exam. Inscript keyboard works with Mangal Hindi font that is used in SSC Exams for Typing Test and Stenography test.

Inscript Keyboard Layout is already available in your windows operating system; you have to enable Hindi Inscript Keyboard in Window Operating System. The steps for Enabling Inscript Hindi Keyboard are given in following link.
How to Enable Inscript Keyboard in Windows 8, 7, Vista, XP
3. Phonetic Hindi Keyboard
This is Phonetic Based Keyboard Layout for Hindi Typing. Phonetic means "Type as you Speak", All Hindi Transliteration software works on Phonetic Keyboard, If you are not know Hindi Typing then you can type with phonetic keyboard layout.
To type Hindi Using Phonetic Keyboard go to English to Hindi Typing
Learning the Hindi Typing is very easy in comparison of English typing, it demands time and practise.
Back to India Typing