English Typing Quick Tutorial
Learn
English Typing
for the Govt Jobs as well as Private sectors Jobs. Good typing speed is the key of data entry operator, BPO, KPO, Online Marketing and other Data feeding jobs. Online english typing tutor by India Typing is the best
typing software
. After loading online typing tutor lesson you have to type the highlighted character in 'pink' color, see on the keyboard the target character (character that has to be typed ) is showing in 'green' color if you typed it correctly the cursor highlight the next character in lesson and the typed character turns to 'black' on lesson text and the keyboard highlight the new target character. But if you typed wrong character the character turns 'red' in keyboard and you typed tab will display OOPS message and the cursor stand silent. For complete the lesson you have to typed correctly otherwise you will not eligible for type next character at
India Typing
. For more typing tips go to typing tips page
Placement of fingers on Keyboard

:
The 'F' and 'J' keys have a raised bar or a dot allowing your finger to identify them. Once you have placed your two indexes on those keys, the other fingers are placed on the keys next to them. 'A' 'S' 'D' 'F' and 'J' 'K' 'L' ';' are the base positions for your fingers. Your fingers go from the base position to the key that you want to press and after pressing the key it backs at base position.
In order to type fast you have to be careful about which finger to use to press a key. Take a look at the drawing below.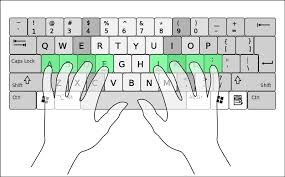 Each color match a finger. For example the right index is pink and has to type only the pink keys. Always try to type with both hands. Divide groups in the keyboard for both hands. Always use thumb of any hand for press the space bar.