Hindi Inscript Character Code
Hindi Inscript Shortcut Keys : In Hindi Inscript Keyboard some character are not found on keyboard layout as you seen. Some of the character in Inscript keyboard made with combination of some characters, you can see the Inscript Hindi Keyboard character list below:
Hindi Inscript Typing Rules and Character code
1. Half Characters : For type any half character in Inscript Keyboard you have to use "halant" character. Firstly make full character and then press halant (d) to make it half. For example: to type 'क्या', first type 'क' then '्' and 'या'.
2. Matras : In the Inscript Hindi keyboard, we have to type all the matras after the character with which they are to be associated is typed. This rule is applicable even with Chhoti Ee matra (ि). To write कि, you write first 'क', and then 'ि'.
3. Upper Ref : We can make upper ref ('r' on top, as in the word 'कर्म' ) can be written in two ways. First one is by typing 'र' followed by halant ' ्' or second way is pressing the English key that has the $ sign.
4. Phonetic rule of Inscript : To understand Inscript better, we should remember a Phonetic rule: All the letters are typed in just the way they are spoken. Like, when we pronounce 'कर्ता' we speak first 'क', then 'र ्' and then 'त' and finally 'ा' (matra). We have to type the letters in the same order. If they are to be displayed in a different order, the Inscript system will auto-adjust letters, and we don't need to worry about that.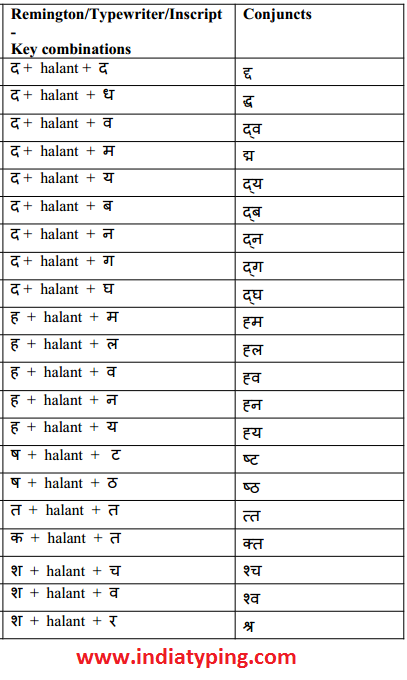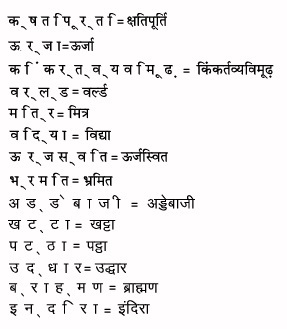 For More Inscript code Click Here
Some Character are not present on Inscript Keyboard you can make them with following Alt + Numeric Code. Just hold the Alt key and press the corresponding code given in following table.