Hindi Typing Tutor
Learning Hindi typing is a good Idea!! Here we are proving the Free On-line Hindi Typing Tutor. In first people thought Learning Hindi Typing is a tremendous task, but reality is not same.
Tip: For learn Hindi typing in mobile phone connect your mobile to keyboard with a OTG cable.
In fact learning Hindi typing is very simple in comparison of English typing. Because in Hindi we don't have to think for spellings (its very time consuming for English to check whether the spelling is correct ?)
If you want to improve your typing skills and want to be able to type without seeing at the keyboard. Start with Following order and keep track your daily progress, practice daily one lesson and you will become like a professional Hindi typist in just 12 days.
Hindi Typing Guide
Quick Start Tutorial for Hindi Typing Tutor
Hindi Typing Tutor with the character highlighted in green color on keyboard see on upper tab it will show you the character you have to type in English. The character also highlighted in pink color just see on the screen and type don't look at keyboard. if you press right key then it will highlighted the next character to type and the key will highlighted in keyboard.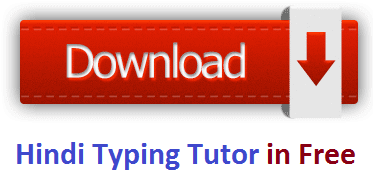 If you press wrong key then it will show you a OOPs message on upper tab and the key you typed will shows in red color on keyboard. Remember one thing practice is only key to learn typing there is no shortcut.
Practice all exercise and remember the key from which the character typed. Once you remember the key and corresponding character you can type fast without seeing the keyboard.
WPM Stands for Word Per Minute
CPM

Stands for Character Per Minute

Accuracy

is percentage of GWPM and NWPM

GWPM Stands for Gross Word Per Minute
NWPM Stands for Net Word Per Minute
For more information and typing tips to learn fast click Typing Tutorial
Placement of fingers on Keyboard
The placement for fingers are same for Hindi Typing and English typing. Always use same finger to type particular character and after press that key return your finger on their initial position as showing in below image.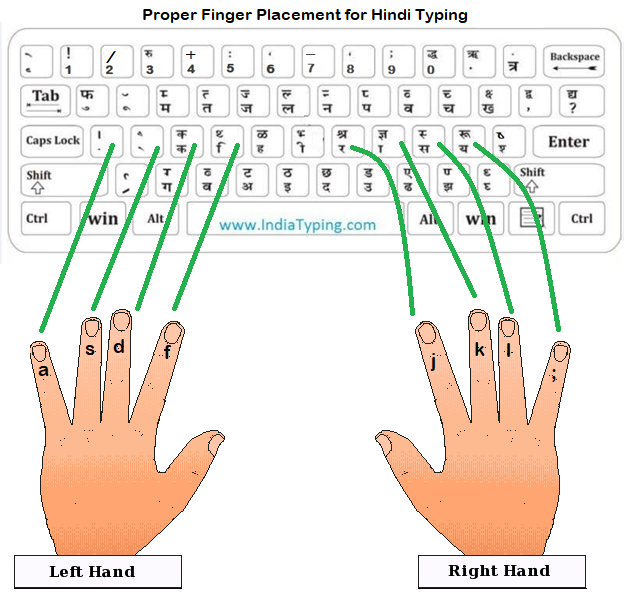 Placement of fingers on Keyboard Home Row
The home row is the row where we put our fingers first when we start typing. When we move our fingers for press any key then after pressing that key we must return our key to previous position means home row position see the image below to know about home key position its same for English and Hindi Typing.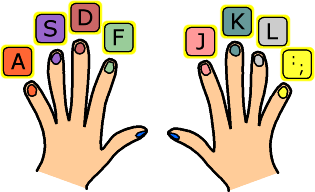 How to learn Hindi Typing
Learning Hindi typing is very easy with above typing Tutor. Just practice 2 hour daily for 12 days step by step as given above and you become a Hindi typist. It's very simple in comparison of English, because Hindi is our mother Tongue.
The online Hindi typing tutor above will teach you typing in scientific method so you will learn Hindi typing in very less time with high accuracy. With this Hindi Typing tutor you will master in Hindi typing without seeing the keyboard.
1. Place your fingers as showing in above image.
2. Each finger is assigned several keys. always press that particular key from same finger.
3. From first lesson you have to practice without seeing the keyboard. Your eyes must be on screen always.
4. Practice only one lesson daily.
5. Keep patience while learning, your concentration must be on accuracy instead of speed. Speed will be improve with time.
Hindi Typing Tutor in Krutidev Font
Krutidev is the most popular font for Hindi typing. The above keyboard layout is the traditional layout which was used in typewriter machines and adopted the same for Hindi typing with Krutidev font.
This Keyboard layout of Krutidev font officially known as Remington layout or typewriter layout. Kruitdev is a non-Unicode Hindi font widely used in general Hindi typing purpose from courts to all government and private sector works in Hindi language. So learning Hindi typing in Krutidev is worthful.
Hindi Typing Games
Getting bored with practicing !! why don't play a game, a Hindi typing game will keep you busy in practicing with fun. Playing typing games also improve your typing skill and accuracy. You can try following Hindi Typing games:
More Hindi Typing Tutors
1. Hindi Typing Master - An advance Hindi typing tutor for beginners with animation that will dynamically display which finger you should use for type particular character. Having a different set of lessons and practice exercise for learning Hindi typing.
2. Remington Gail - Remington Gail keyboard layout is almost same is Krutidev layout with little differences like Remington Gail Hindi typing supports Unicode based Hindi font. In some government exams Remington Gail keyboard layout is used.
If you are learning Hindi typing for crack a exam, you should check which keyboard layout will allowed in exam and practice accordingly. You can learn typing with Remington Gail Hindi Typing Tutor from here.
3. Inscript - Inscript Hindi keyboard are also used for Hindi typing. Inscript works with Unicode based Hindi font having a different key mappings than Krutidev. You can learn Hindi typing from Inscript Hindi Typing Tutor.
4. Phonetics - Phonetics typing also possible in Hindi. It's simplest way to type in Hindi without practicing any keyboard actually. If you are looking for Instant Hindi typing you can use this one. This is a transliteration method of typing from English keyboard.
It doesn't have any key mappings, it transcribe Latin words in Devanagari Hindi as you speak. Beware Phonetics Hindi typing is not allowed in Hindi typing test.